Mariannick Saint-Céran was born in Madagascar in the town of Tamatave to a family from the Reunion Island.

Then the family moved overseas to France.
For as long as she can remember, Mariannick has always sung. It started with her father playing 'séga' and 'maloya' (traditional music from the Reunion Island) on the guitar and kept growing with her older brothers, also guitarists and singers.
The weekends were always the best time for the family to pick up the guitars and harmonica and to play and sing traditional music.
The family listened to the radio or got a hold of some old classical music and jazz vinyls from time to time.
Mariannick's childhood was lulled by the rhythm of 'séga', 'maloya', Strauss waltzes, Chopin and Lizt, French songs and Django Reinhart on the guitar.
She listened to Blues music throughout her adolescence and started singing with friends. One of her brothers' friends got her into Earl Hines and Memphis Slim.
Finally, she would sit and listen to "Summertime" from "Porgy and Bess" by Ella Fitzgerald and Louis Armstrong for hours, in total rapture.
This was also a time for savouring Claude Nougaro's poetry and Eddy Louiss' music.
Her brothers took to playing the bossa-nova on their guitars and later she was to hum "Fille d'Ipanema" on their instrumental recording compilation.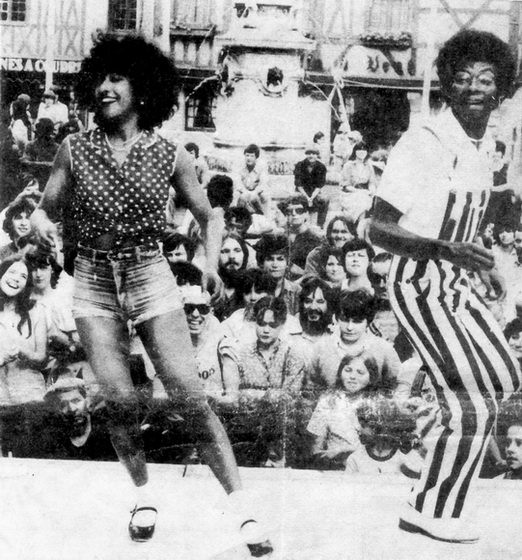 Once her high school years behind, Mariannick started attending university and at the same time, enrolled for tap dancing lessons .
Having soon lost all interest in university life, she ended up working on the grocery market of Aix en Provence, while continuing tap dance.
 
1978 – 1981
Tap dancing .
Performing as singer with the Salsa "Encima Band" and Brazilian band "Soledade", and drummer Vincent Seno's Big Band .
Learning brasilian guitar and percussions.
 
1981-1987
Keeps performing with the Big Band and starts off with the Coco Verde Group which produces Brazilian music.
Learns piano-jazz and classical singing.
 
1987-2006
Singing with the quartet or the Big Band (…) to the Jazz Festivals in Vienne, Jazz Night in Grasse, Festivals of Bormes-Les-Mimosas, Calvi, Sorgues, Marciac, Ramatuelle, Gijon (Espagne), Conilhac-Corbières, Marennes d'Oléron, Cairo, Hungary, Russia, Switzerland, West-Indies…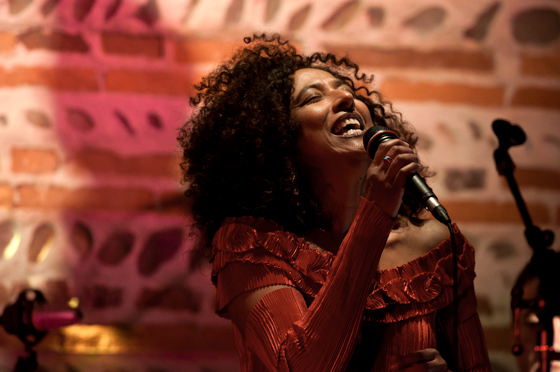 Multiple appearances in Parisian jazz clubs such as Le Bilboquet and the Sunset among others.
Won the 1st Prize at the Crest Jazz Vocal Contest in 1993.
 
THROUGHOUT THE YEARS, SHE PLAYED WITH MANY TALENTED MUSICIANS :
 
Benny Green, François Théberge,Hervé Sellin, Andre Villéger, Lionel Belmondo, Stéphane Belmondo, Bobby Durham, Pierre Boussaguet, Thierry Ollé, Glenn Ferris, Hervé Meschinet, Thomas Bramerie , Dany Doriz, Didier Dorise, Franck Agulhon, Philippe Milanta, Clovis Nicolas,Alfio Origlio, Ahmed Mouici (Pow-Wow) ,Ahmet Gülbay, J-Loup Longnon,Tony Petrucciani, Louis Petrucciani ,Olivier Temime, P-Alain Goualch, Elie Portal, Marc Buccafuri, Bernard Césari, Marc Thomas, Bernard Abeille,  J-Marie Guyard, Cyrille Martial,les frères Chéron, Dominique Rieux ,Mario Stanchev, Michel Pastre, Antenor Bogea, Bruno et Hubert Rousselet, Michele Hendricks, Rémy Vignolo, Michel Barrot, Francesco Castellani, Ivan Jullien, Annick Tangorra, Martine Kamoun, Simon Bolzinger, Marc Cauquil, Christian Mornet, Nicolaï Panov, Lev Kuschnir, Jukka Perko, Rodney Kendrick, Danilo Perez, Marcel Zanini, Marius Cultier, Alex Bernard, Sandy Patton, Marcia Maria , Nicolaï Panov, Christophe et Philippe Le Van, Lev Kuschnir, Gérard Naulet, Phillippe Festou, Vincent Strazzieri, Gérard Guérin,  Mediterraneo, Jean-François Bonnel, Claude Tissendier, Stan Laferrière, Le Phoenix Jazz Band, Jacky Florens, Henri Florens, Norbert Grisot,  Alain Rageot, Yves Scotto, Beuza, Ben Chaa Abbas, Michel Zenino, Marc Séguy, Cyril Seguy, Guy Robert, Marco Jabea, Balthazar Thomass, Pascal Versini, David Kikoski, Les Mc Cann, Claude Decator, Raymond Grégo, Vincent Seno,, Bernard Camoin, Francis Lockwood, Mario Stanchev, Jean-Philippe Crespin, Michel Goldberg,  Yoann Serra, Jean-Yves Candela, Marc Cicero, Michel Pastre, Bruno Rousselet, Hubert Rousselet, Christophe et Philippe Le Van, Laurent Elbaz., Raphaël Ducasse, Cédric Jeanneau…

And many more ...